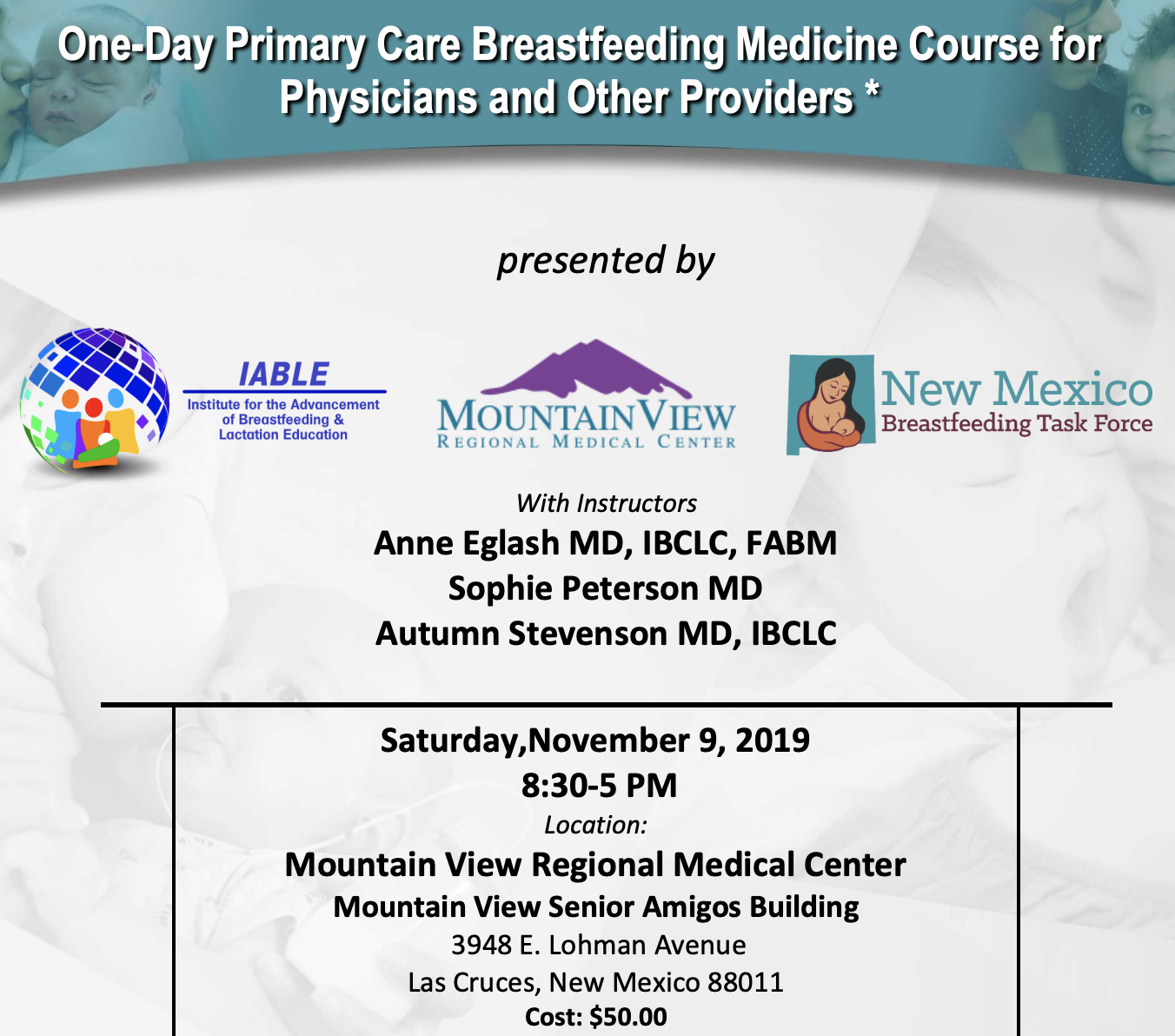 View CE information, full schedule & more in the
Schedule: The training will be held from 8:30-5:00 PM. Please arrive between 8:00-8:30 AM to sign in, and get comfortable for the day's activities. We plan to start promptly at 8:30 AM.
Location: The course will be held at Mountain View Regional Medical Center, Senior Amigos Bldg. 3948 E. Lohman Ave. Las Cruces NM 88011
Lodging: Special rate at the Courtyard Las Cruces. The group code is BFTBFTP. To reserve, click the link or call the hotel at (575) 526-1722 (option 1 for reservations) .
Start Date of special rate: Thursday, November 7, 2019
End Date of special rate: Saturday, November 9, 2019
Last Day to Book: Thursday, October 24, 2019
Instructors: Anne Eglash MD, IBCLC, FABM & Sophie Peterson MD & Autumn Stevenson MD, IBCLC
Parking: Free parking is available in visitor lot.
Meals: Refreshments, light breakfast and lunch will be provided.
Misc.
A room to pump will be available.

Please bring a pen and a water bottle.
Lecture Notes: A PDF document containing pictures of all of the slides in the PowerPoints is available. It is approximately 70 pages. This document can be downloaded from your dashboard when you login at the IABLE website: https://lacted.org/my-account. We recommend that you print the lecture notes and use them for taking notes during the course. You can login to your dashboard using the email or username and password that you used when you registered for the course. An email with login instructions was sent upon registration. After logging in, your lecture notes can be downloaded by clicking "My Account" and then "Downloads."
Mountain View Regional Medical Center | Mountain View Senior Amigos Building | 3948 E. Lohman Avenue, Las Cruces, NM 88011